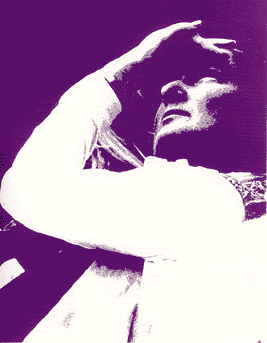 CHAPTER EIGHT (cont.)
DAISY ALDAN
BOOKS AND THE LIVING HAND
In Folder IV, I took the opportunity to put out my translations of Mallarmé's Coup de Dés, which had never been able to get printed the way he wanted it printed. That's why I say, go ahead and do your own things. Commercial publishers will never do them your way. Mallarmé wanted it done on music sheets because it was structured like a symphony. The original version also has no punctuation and the grammar, the syntax, seems to be mixed up but that's all part of the poem. I with my linotype and great love brought one of his greatest poems to existence.
Remember, this work in the Folder by these wonderful talented musicians, poets and painters, I couldn't sell for a dollar. Some people said, "Give it away to friends." You must never do it for money because it is impossible to make money. Imagine a dollar for all that!
When Folder IV came out, I felt that the mission of my magazine was over. Now I was ready for my crowning glory. We took four of the poets and four painters and decided that we would put out four bound books. We had a big silk screen in the studio and paints. These books are really books of art. They consist of poems and serigraphs. You can tell that the painting is not reproduced by machine, because you can feel it The poems were printed in Germany. We found that you could get cheaper paper and binding there. It took ages for it to come back but it was worth it After that I decided to put out a book a year. Several of my friends said I was becoming known as an editor, not a poet, that I too must have a book. But I made a number for friends anyway, if I felt the poems were good enough. With an exquisite photographer, I did a book of my own called Seven:Seven; Photographs and Poems. Then a couple of years ago I had a poem "Journey" put into calligraphy. I met all kinds of calligraphers and in a matter of a few weeks did a whole series.
Someone: What do you sell Or Learn to Walk On Water for?
DAISY: $150.00. I also put it out in a cheap offset edition. All these were very well received.
When I was in Switzerland I translated the Swiss poet Albert Steffen and put out a book of his poems. My book, Breakthrough, was printed in Switzerland where I was able to arrange the type and page by hand. There were two American commercial publishers interested in this but I withdrew the book because they wanted to put it out in a cheap paperback and these poems must be done this way, laid out according to spaces, because that is an integral part of the poem.
Now I just want to briefly go over the steps in publishing you would have to take. First, get a manuscript you want to publish, whether it's yours or a friend's; arrange it the way you want, and decide what kind of book you want and what kind of process you want to use handwriting, calligraphy, Linotype or wood blocks – there are all kinds of ways. Then decide on what paper you want; get Linotype made or do calligraphy and drawings. Make a little dummy so that when someone's printing it, he or she knows what to do. Paste up the pages after you get your type or your printing. You must be careful because it will come out just the way you paste it. It can't be crooked, so work with rulers. Then get a printer and then you will get galleys to correct Send them back to the printer and when it's printed, find somebody to bind it in boards and cloth. The next process is the distributing of the work. (She kicks her foot into the air). GO AHEAD AND DO IT.
Daisy's books are eagerly examined and discussed by the participants. Then Anaïs Nin comes forward and unlocks a glass cabinet, in which her hand-printed editions, bearing the imprint of Gemor Press, have been on display. As she talks, she passes around her books.
ANAÏS: Now for an inspirational story after all the technicalities. When I came from France in 1940 I had three books to be done and couldn't get any publisher. I bought a second hand press with $100 loaned by Ms. Steloff. We got a place on MacDougall Street in such an old house that when you put the press on the floor it began to sway. It was a hand press that was operated like a sewing machine with your foot. I had two people help me set up the book. One was Gonzalo whom I wrote about in The Diary and the other one was a cousin who doesn't wish to be named. We learned from an instruction book. It said to oil the rollers, so we put oil on the rollers and as a result we couldn't print for a whole week!
It took me eight months to hand set Winter of Artifice, and being a novice I never learned to properly space words. I n one place I separated the word "love", of course to the delight of the critics. Then I did Under a Glass Bell, by hand. We used the Blake method of printing from copper plates done by the artist, Ian Hugo. Each one of these had to be pulled individually. Then we had to wipe out the ink and put on another plate, a great deal of labor. The books took about a year to do. It took so long I finally realized that I wouldn't write if I went on.
Originally the press had been meant to be a collective press. We thought we would all work on it and do each other's books. Robert Duncan came and left his poems for me to do, so it ended up not being a collective press. After doing my stories, we finally did the very large book, House of Incest, also with real engravings pulled on an engraving press.
Of course I took these books to the Gotham Book Mart. They have since become collectors' items. I'm the only writer who wept when she had a contract with a commercial publisher because I thought now the books are going to look dull. I had to do it though because printing was a full time job, and I wanted to write.
Since this part of the Weekend is considered a workshop on the more unusual and artistic ways of putting books together, other persons are prepared to show what they have done.
Adele Aldridge describes her books. First she removes a very large beautiful book from its leather burlap portfolio. The book is hand-bound in burlap with an embroidered title. It contains hand-rubbed woodcut prints on double-folded rice paper. The prints are her interpretations of I Ching hexagrams, in which she has created her eight basic symbols and inter-related them in sixty-four ways. Since the book would be very expensive for others to buy, she decided to make only two of them.
As she was experimenting graphically with words, in a development from using words ironically, such as Pray/Pay, in her paintings, she made a large collection of visual word statements. These she called Notpoems and produced them in three ways. Her first step was to hand-bind ten sets, each with its own unique and elegant cloth cover. Then she made cloth-covered box forms for ten more sets. Finally, she had printed a larger, less-expensive limited edition of the work, for which she designed and executed a binding of glossy paper and metal rings.
Her most recent effort is a new color version of her I Ching images. She hand-printed each page on a foot-treadle letter press, which required several run-throughs for each color used. Each page also required typesetting sentences selected from the I Ching, which she used to complement each print. To make 55 copies of this edition took her 5-1/2 months. To bind together each set of prints in a complete work of art she chose a transparent rose-colored plexiglas, for its affinity with the content and because its fire-like glow made you want to pick it up. Each volume she sells for $80.
She describes herself as "obsessed with books", a term which would apply to all those creating books in this way. We have already been surprised to hear that Georgiana Peacher is silk-screening a novel. She shows us some of the 250 signatures that, when finished, will be divided and boxed in four folios. Her words are hand-lettered in different colors, each of which requires using a separate screen in the complicated process of preparing each page. Each page, furthermore, is designed in unusual arrangements of words on paper, often blended with images, all intended to build the meaning of this experimental "symphony" in prose, entitled Mary Stuart's Ravishment Descending Time. It is a complex work of art, taking years to complete. It is her first book to print.
Adele: I am moved by Georgiana, who is warm and shy and shows us her lovely work – a beautiful unfolding – who tells us that after years and years of work she quit her job one day to do what she wanted to do. I feel such identity with that, and such strength when I hear people throw things away, saying 'yes' to themselves.
Moira Collins shows a sample of her hand-written, "commonplace" books. She chooses her material with her personal response as the only guide. She says, a "commonplace" book is needed …
if you're carrying Ferlinghetti's line, "I hear America singing in the yellow pages" in your head and don't want to forget it; or if a friend's dream has an incredible parallel to an old Bella Coola myth you once read and you want to remember the connection. Often, one of the truest places of all is in one's mind, but if your mind is very opal and you find it hard to keep a diary or daily record, you might wish to write yourself out in a personal journal in which passages literary excerpts and comments form a sort of associative shorthand of how you were at a particular moment.
She often makes such a book around a certain theme for favored individuals.
Another work, shown by Elaine Streitfeld has only been shared with her closest friends before now. It is a sheaf of pages containing one line narration with water colors and drawings, a childhood reminiscence entitled "Ah, The Beautiful Fragrance of Lime Blossoms in Florence Angela's Backyard". After hearing the others in the workshop, she feels inspired to turn the work into a complete book with her own magic hands.
The intense feelings from all the creativity witnessed during the day spill over during a festive dinner of animated talk and a round of toasts with wine. Nadine says, I never did come to the table to eat but for the company. And Joan Anacreon shares a poem she made up on the spot:
Yes!
Yes Yes Yes Yes!
Yes to new places, new faces, to Spring
Yes to painting and writing and flings
Yes to today, the sun and tonight
Yes to tomorrow, to ideas in flight
to new friends, to new feelings
to good times and good dealings
Yes to living and giving
to life
Yes Yes Yes Yes!
Oh Yes.