Monthly Archives:
February 2015
This is an amazing blog that those who still wish to celebrate Anaïs Nin's birthday week should visit this posting celebrating Anaïs's 112th birthday. And check out the art pickings on Brain Pickings!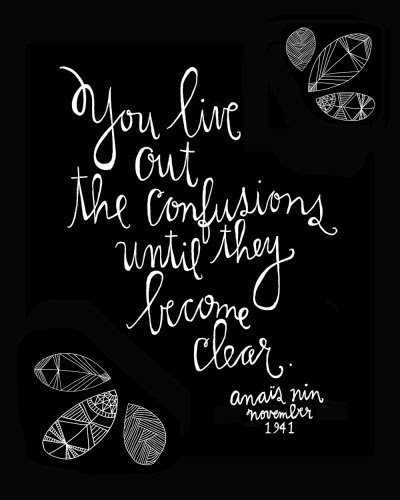 San-Francisco-based illustrator Lisa Congdon
Or follow Maria Popova @brainpicker
Today Anaïs Nin would be 112. It is difficult to believe that it was seven years ago that Steven Reigns produced the wildly successful and sold out  Anais@105 celebration at the Carl Hammer Gallery at UCLA.
This month, Reigns has organized another celebration in her honor. Entitled Anaïs Nin: The Women She Influenced. The event, will be held March 28, 2015 at 2:00 pm at The West Hollywood Library Council Chambers. Female writers will read from their books and discuss their personal relationships with Anaïs Nin and her everlasting influence.. Sponsored by the City of West Hollywood's Woman History Month program, speakers will include Barbara Kraft, Tristine Rainer, Valerie Harms and Sas Colby.
Council Chambers
West Hollywood Library
625 N. San Vicente Blvd
West Hollywood CA 90069
between Melrose Ave and Santa Monica Blvd
Library website with public transportation directions: http://www.colapublib.org/libs/whollywood/index.php
We would like to celebrate Anaïs's Birthday with a  portion of a poem of Steven Reigns from the book of poems entitled Divining Divas: 100 Gay Poets on Their Muses by Michael Montlack.
The poem is entitled: Anaïs Nin Never Bought a Car.
And so in a moment like this as I shake hands with the salesman, haggle on price, I don't know what to do. I've modeled my life on her words, her account of what happened, how she handled herself. Would she have smiled at the salesman?……
a beautiful poem…(buy the book to read it in entirety!) the last lines are the reason why Reigns has created such wonderful events for his Muse.
After her death there was no car to bequeath, no children to divide belongs, but their were Anaïs's words
the daily diary writing where she road-mapped her life for me to travel.