Simone Lorenz and Bruce Cohen, spoke for Rupert Pole in the early negotiations of the Anaïs Nin web site.
Here they are in the 1995 at Anaïs Nin's home in Silver Lake. Rupert Pole is on the right and they are on the left. Sharon Spencer is looking up at Simone who had compiled a beautiful edition of quotes from Anaïs which was at that time among the Nin fans, expected to be published soon.
Party at Silver Lake House 8/27/95: Bruce J. Cohen,Simone Marie Lorenz,Sharon Spencer, Bebe Barron, Renate Druks, Kazuko Sugisaki, Rupert Pole. (Photo by Simone Marie Lorenz, © 1995. All rights reserved.)
To read Simone's touching piece Remembering Rupert.
Recently we sent a couple of postcards from Valerie' Harm's generous offer (which the site has been mailing out) to Simone. we asked if it was okay to post a New Year's greeting that she and Bruce had sent out to friends on New Years. Here it is to inspire everyone today, as every day in a sense begins a new year, from that date! you begin writing your new day, new year message in your journal.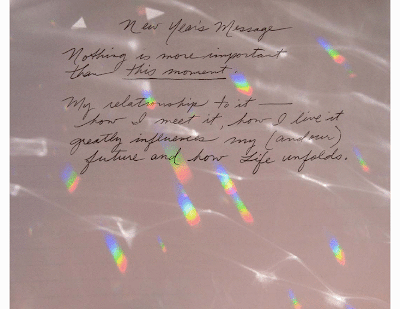 From Simone:
January 1, 2009
In my silent morning meditation, the attached reminder arose. While sharing the writing with Bruce, bright sunlight passed through the crystal hung in the window and then through the water in Bruce's drinking glass, sending dancing light and prisms of color across the page.
Delighted and in gratitude for this spontaneous display of beauty we wanted to share it with you…