"The dream was always running ahead. To catch up, to live for a moment in unison with it, that was the miracle." —Anaïs Nin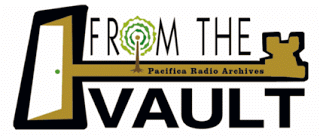 Special guest poet and Nin scholar Steven Reigns has been kind enough to forward information on his participation in helping to bring a historic interview with Anaïs Nin "from the vault".(The Pacifica Radio Archive) His interview wraps up a month long series honoring Women's History Month. Reigns selected the audio as a special guest scholar/poet. The interview recorded in 1955 just before the release of Nin's Diary. The interviewer Francis Roberts speaks intimately with Nin about her writing styles, the origins of her diary as well aso her relationships with intimates mentioned in her Diary.
To give more background on Reigns, he produced the 105 Birthday Celebration for Anaïs held at the Hammer Gallery in UCLA: This video of Reigns introducing Anaïs Nin @ 105 underscores his remarkable devotion to her legacy and attests to his talents in integrating Nin studies in a manner that marries scholarship and poetry.
Reigns writes:
"I'm so pleased that the Anaïs Nin radio archive project I was asked to introduce is now online. It will be playing across the country throughout the week. It can also be listened to online."
http://audio.pacificaradioarchives.org
Kudos to Reigns who can be found at www.stevenreigns.com. Our thanks for his courtesy in mentioning our site.